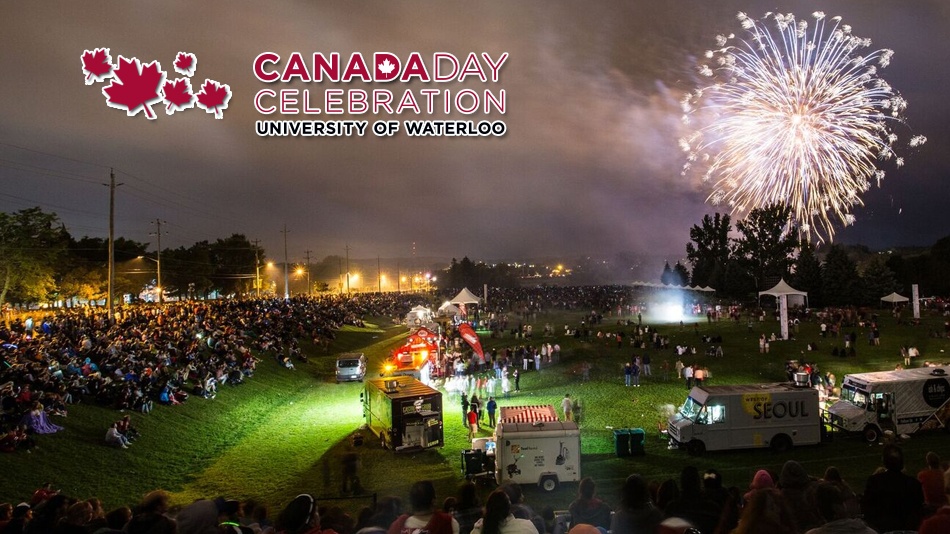 What better way then to spend Canada's 150th anniversary then to spend it with friends and family at the local Columbia Lake near the University of Waterloo! One of the biggest annual events in Waterloo, the fireworks bring 10's of thousands of Canadians together to celebrate one thing, the country they love. What could be better for celebrating the birthday of our beautiful country.
New to town? If you have never experienced the fireworks on July 1st there really is nothing like it. The day begins with fun, games, food and live music to brighter everyone up and really bring upon the spirit of Canada. There is what feels like an infinite number of activities to partake in such as face painting, and clothing and jewelry vendors, to Canada Day themed swag and every day items that can be used. Then there is the food, what could be better than getting a hot and fresh beaver tail, or partaking in one or maybe a dozen of the BBQ hamburgers and hot dogs that they have to offer. These activities alone can make it feel like the day is just flying by, take pictures with your friends and really appreciate the atmosphere of being a Canadian.
Then you get to the end of the night...... Which I like to call the "big bang" for emphatic effect. A 50 minute firework extravaganza that will blow your mind. The city and University of Waterloo have really put a lot of effort into making this one of the best firework shows that you will see in Canada. Costing more than $200,000 per year to put this show on, it consists of over 1500 individual fireworks that are let off over the lake, filling the sky with bright vivid colors and the subsequent reflection from the lake brings a sparkle to your eye.
In conclusion, if you haven't made any plans for Canada Day, and you're in the Waterloo Region and whether you are a student attended either Waterloo, Laurier, or Conestoga College or just a resident of the region, be sure to come check out the amazing show that is put on for our community every year. If you are a tenant at Rez-One you have it even better, with the lake only being a couple minutes of a walk or bus this can really help add to the excitement of the night walking back to the buildings in our amazing town. We hope that you all have a fun, exciting, and safe Canada Day on this 150th anniversary.