Wait a second, wasn't Thanksgiving last month? With a holiday this nice, we should celebrate it twice. The event that started out in the 19th-Century as a religious fiesta about giving thanks for a bounteous harvest, has matured into one of the most anticipated weekends on not only the Canadian but the American calendar as well. Therefore, there is nothing wrong in honoring our neighbours to the souths version, after all, both the countries share the longest border in the world.
We feel not enough Canadians take advantage of this totally legitimate reason to cook and eat another giant turkey, and maybe some more stuffing and multiple pies. Even vegetarians will have a field day embracing the American Thanksgiving, since many of the side dishes offered alongside the turkey are veggie based.
Side note: the American Thanksgiving's side dish game is strong, we're here to help you out with a recipie.
Therefore, feast upon a Thanksgiving round two, perhaps call it a Friendsgiving, or a neighborly homage from the Great White North!
We'll even help you out with a smashing recipe to up the ante of your second Thanksgiving, a favourite among Americans. Sweet Potato Casserole;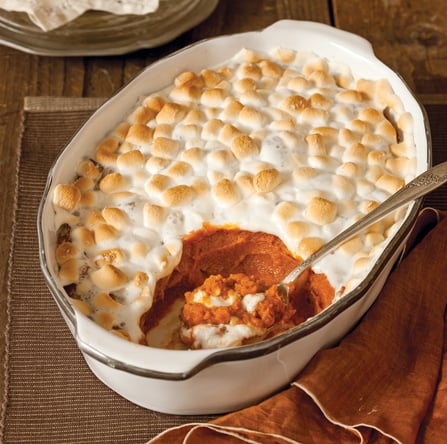 • 5 sweet potatoes, sliced
• 1/4 cup reduced fat margarine
• 1/2 cup packed brown sugar
• 3 tablespoons orange juice
• 1 pinch ground cinnamon
• 1 (10.5 ounces) package miniature marshmallows
1. Preheat oven to 350 degrees F.
2. Place sweet potatoes in a large saucepan with enough water to cover. Bring to a boil, and cook until tender, should be about 15 minutes. Remove from heat, drain, and mash. (This is also a great reliever for those end of the semester stresses you're probably experiencing)
3. Place mashed sweet potatoes in large bowl, and use an electric mixer to blend with the margarine, brown sugar, orange juice, and cinnamon (sounds like an interesting combination but we promise it's delicious). Spread evenly into a 9x13 inch baking dish. Top with miniature marshmallows.
4. Bake for 25 to 30 minutes in the preheated oven, or until heated through, and marshmallows are puffed and golden brown (as if you roasted them on the bonfire, in the middle of summer, when there was no snow on the ground and it wasn't -20 degrees...)
So why not take the Thursday off, give yourself the time to cook, eat, relax, and then recuperate from all the eating. If you're feeling really festive you can live stream the Macy's Thanksgiving Day Parade, and get ready for Black Friday shopping the next day. After all, go big or go home.