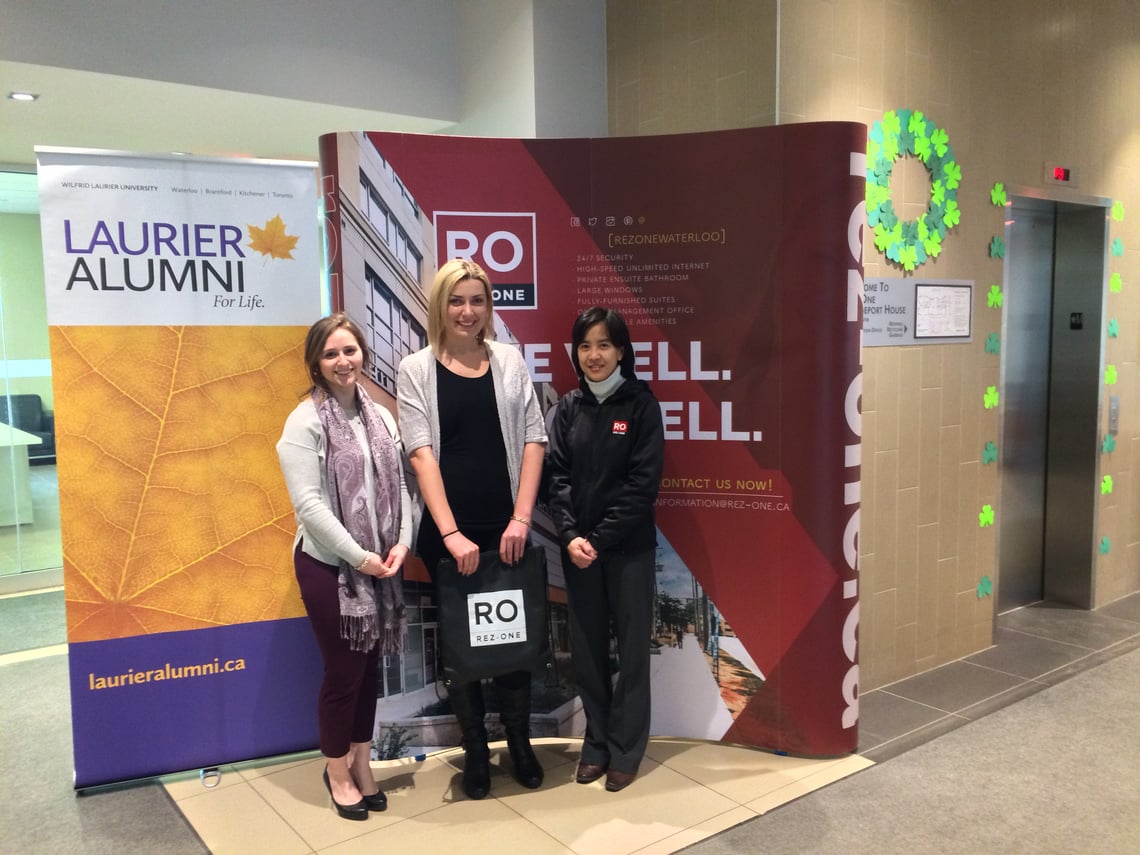 Waterloo, ON (March 8, 2017): Wilfrid Laurier University has awarded one lucky student with the first-ever Rez-One Live Well, Do Well Award. Eligible candidates must be full-time undergraduate students in their second year of study at Wilfrid Laurier University and must display financial need as well as a commitment to volunteer work.
The recipient this year is Human Rights and Human Diversity student, Zana Talijan of the Brantford campus. A role model to her fellow students, Talijan's commitment to her community is nothing short of impressive while her dedication goes well beyond her curriculum vitae.
"Civic engagement teaches us to look beyond ourselves and gain understanding of the role we can play in our community and country. It is beyond resume-building and networking, it is an opportunity to learn life changing lessons and help shape our community," says Talijan.
Talijan has organised numerous fundraising events for War Child and has even offered assistance to children of Syrian refugees as they transition into Canadian life.
Rez-One Student Living introduced the scholarship award in October 2016 to celebrate those hard-working students who embody the Rez-One mantra of Live Well, Do Well. Rez-One itself has been a leader in community support and involvement being long-time donors to the Hong Fook Mental Health Association, sponsorship supports of the Kitchener-Waterloo Chinese Students and Scholars Association, the University of Waterloo African Students Association, the Laurier Economics Club, Engineers for Hope, UW Co-op Connection, and Kidsability to name a few.
"Here at Rez-One, we truly believe that the only way to Live Well, is to Do Well. University life is all about balance and recognizing that you have been given a gift that not everyone is lucky enough to receive. Community outreach and altruism has always been at the apex of our company's beliefs and we have always encouraged our tenants to do the same," says Darlene Reparon, Regional Director of Rez-One Student Living.
Visit the Wilfrid Laurier website for more information on the Rez-One Live Well, Do Well scholarship award.
###
With 1600 students and counting calling it home, Rez-One is the premier off-campus student housing residence in Waterloo. Founded in 2012, Rez-One offers luxury student living equipped with comfort and convenience to help foster the future of Waterloo students.